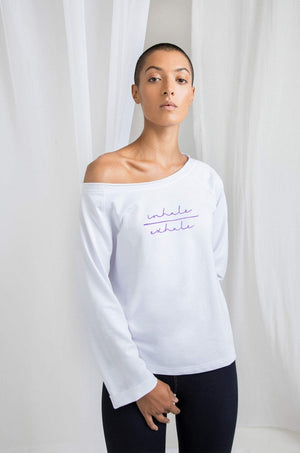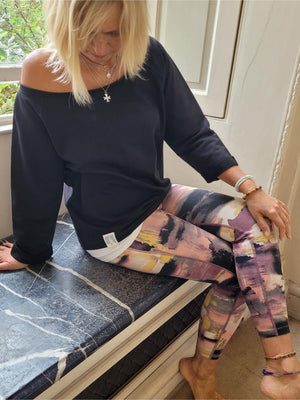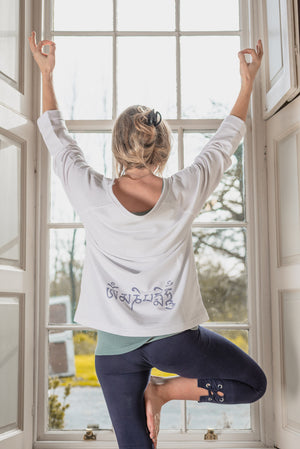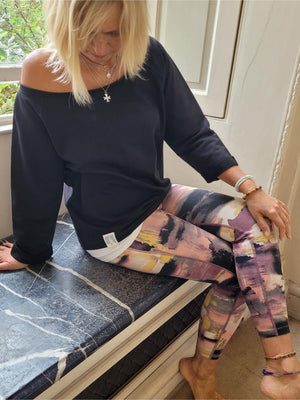 'Flash Dance' Sweatshirt in White, Heather Grey & Black
When this Sacred Threads collection was first piloted it was this sweatshirt that brought everybody running!
It's a classic. Something similar worn by Jennifer Beals in a movie back in the 80s! It's a lovely textured terry fabric, thick enough to warrant the term 'sweat' and refined enough to be classed as so much more. Deceptively simple styling makes this a must-have throw on, look-great-easily, piece of clothing. It comes up big, so go for a smaller size if you like things fitted.
This sweat is the first in the Sacred Threads collection printed with the beautiful and powerful chant of 
Om Mani Padme Hung in Tibetan script which can be printed vertically along the spine on the reverse of the sweat, horizontally along the bottom back hem, or in smaller print along the back of the left hand sleeve....
You can choose to have 'Inhale Exhale' printed on the front, as seen in the images, or for a more discreet feel you can simply have a 'Namaste Hands Mudra' hem Tag on the front hem - the Padma/Lotus  hands mudra is printed on the back of this hem tag. 
This is a beautifully unique piece of quality clothing that effortlessly blends casual with classy.
Every Sacred Threads garment is posted with a Bookmark that has the translation of the Om Mani Padme Hung chant. 
Translastion provided by the Amazing & Authentic Yogini - Fran Allan (from https://www.derekthedog.co.uk/)  who received the translation direct from her Teacher in India.
PLEASE BE SURE TO LEAVE A 'NOTE TO SELLER' when you place your order to indicate your preference.
This item is also Sustainably produced & Ethically manufactured.
Organic French terry cotton. 280gsm. Wide off-the-shoulder raw edge at the neckline. ¾ length sleeves with rolled back edge. Raglan styling. Straight hem. 
Available in White, Black and Heather Grey.
Sizes: Small, Medium, Large & Extra Large
For best results wash with like colours on a cool delicate wash.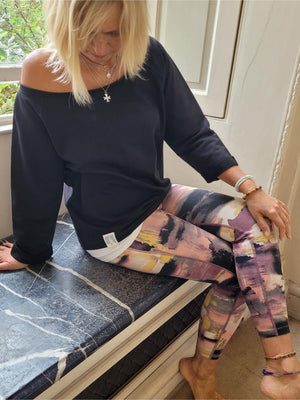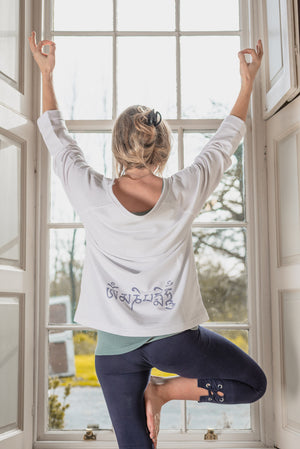 Beautiful clothes
I have purchased two beautiful tops from Sacred Threads and they have rapidly become my favourite items of casual wear. Very well made, wash well, comfortable, stylish, ethical and look great. Definitely recommend!
Beautiful clothes
I have numerous tips , sweaters , hoodies , vests from scared threads and I love them all hence why I keep buying . I would recommend them to anyone and often do. As a yoga teacher they are just perfect for everything yoga but I also wear them for daily life too . See you soon Ali xx
Superb quality
Recently bought this for my teenage daughter at the pop up in Totnes. She wears it to the gym and loves it. It's really good quality so such a good price for a sweatshirt made so well.