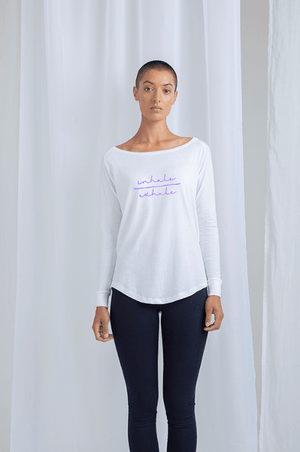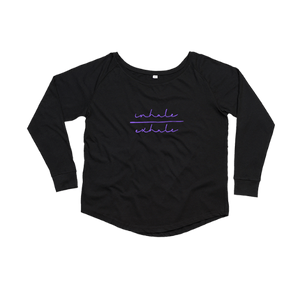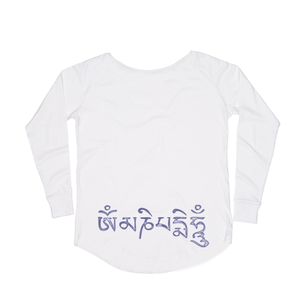 Sacred Threads sculpted, loose fit, long sleeve T-shirt in Black & White
This beautifully cut and flattering t-shirt is deceptively special considering how simple it is. The dropped curved hem creates an extremely flattering shape, by seeming to elongate the body.
When we wear this t-shirt we love that it gives just the right amount of exposure to the neck line. The fabric is very light, so great to wear even if it's hot but you would still like to wear a long sleeve. It is loose enough in design to wear over something else. 
The Sacred Threads collection has options for  Inhale Exhale screen-printed on the front, and, in the beautiful Tibetan script the chant Om Mani Padme Hung to be printed across the bottom back hem or Vertically along the spine making this a beautifully unique piece of clothing that effortlessly blends simplicity and class.
Alternatively, there is the option to have no Screen printing on the front but instead a Hem Tag sewn onto the bottom of the front left hand hem. The Hem Tag as a lovely image of the Namaste Mudra on the front and the Padma Lotus Mudra on the back.  
Also, the chant can be printed smaller on the back right hand hem to be more discreet.
You can message the seller to make your choice.
This product like ALL Sacred Threads items washes really well and will keep it's shape and it's colour if washed according to instructions. 
100% lightweight cotton. Single jersey fabric. 125gsm. Curved drop hem.  Rib cuffs. Wide neckline. Ethically made and responsibly produced.
Available in Black and White.
Sizes: Small, Medium, Large.
For best results wash with like colours on a cool delicate wash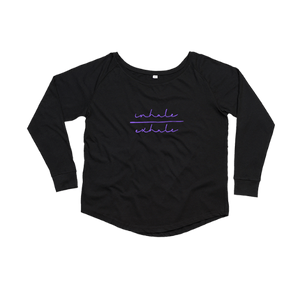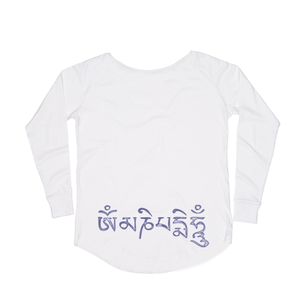 Perfect T
I'm so happy with my purchase, this is my go to T, comfy and easy to throw on and be ready for whatever the day brings...I love the hem line and the flattering neck line. Feels great to wear and to support a small business with a great big heart 🤍🤍🤍
Perfect T
I'm so happy with my purchase, this is my go to T, comfy and easy to throw on and be ready for whatever the day brings...I love the hem line and the flattering neck line. Feels great to wear and to support a small business with a great big heart 🤍🤍🤍
these are my
these are my absolute favourite for wearing on and off the mat. The fabrix is so soft on my skin, making them the best to teach in & just be in...they are so well made and I love the subtle shaping...xxx
these are my
these are my absolute favourite for wearing on and off the mat. The fabrix is so soft on my skin, making them the best to teach in & just be in...they are so well made and I love the subtle shaping...xxx
M97 fully satisfies two of the senses 💚
This t-shirt is a joy to wear... soft fabric that drapes well, a perfectly curved hem, ethically created and with wording to lift the soul. The size S is a lovely comfortable fit over my size 8ish frame.
Beautifully packaged without plastic and swift delivery means I'll definitely be a returning customer. Thank you Sacred Threads 🙏🏻