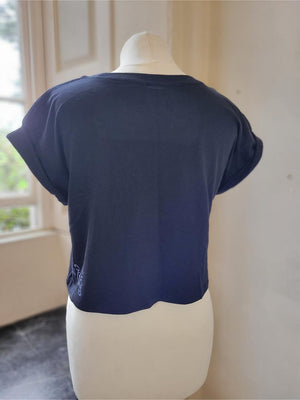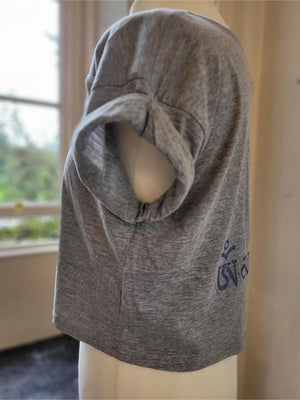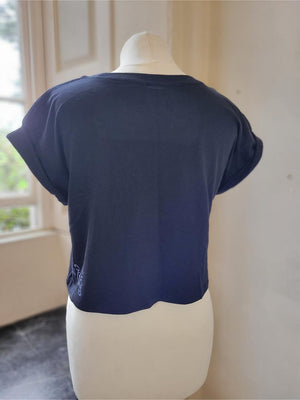 Serioulsy cute Organic Cotton Cropped T'shirt.
The Sweetest & most flattering Cropped T ever.  Shaped to perfection, this piece has the edge when it comes to Cropped T's.
As with all Sacred Threads products the cotton is of the highest quality and is printed with the beautiful and powerful chant of Om Mani Padme Hung in Tibetan script -
This can be printed vertically along the spine on the reverse of the sweat, horizontally along the bottom back hem, or in smaller print along the back hem....
You can choose to have 'Inhale Exhale' printed on the front, as seen in the images, or for a more discreet feel you can simply have a 'Namaste Hands Mudra' hem Tag on the front hem (the Padma/Lotus  hands mudra is printed on the back of this hem tag). 
This is a beautiful piece of quality clothing that effortlessly blends casual with classy.
Every Sacred Threads garment is posted with a Bookmark that has the translation of the Om Mani Padme Hung chant. 
Translastion is provided by the Amazing & Authentic Yogini - Fran Allan (from https://www.derekthedog.co.uk/)  who received the translation direct from her Teacher in India.
PLEASE BE SURE TO LEAVE A 'NOTE TO SELLER' when you place your order to indicate your preference.
per soft Organic Cotton
This item is Sustainably produced & Ethically manufactured.
Available in White, Black, Heather Grey & Burnt Pink. 
Sizes:  Xtra Small, Small, Medium, Large, Xtra Large. 
For best results wash with like colours on a cool delicate wash.