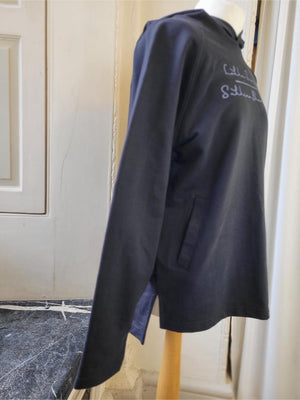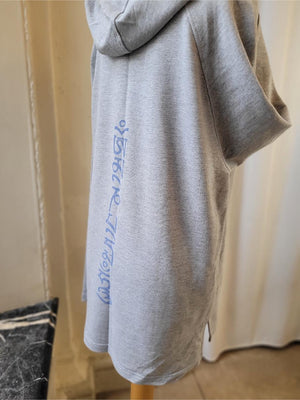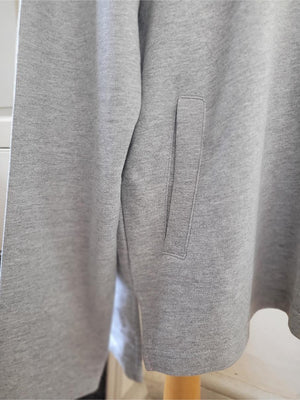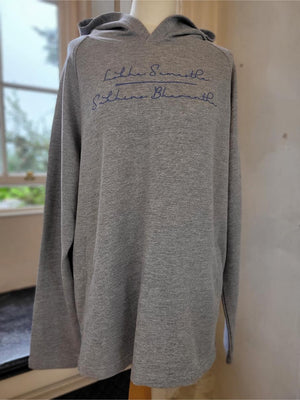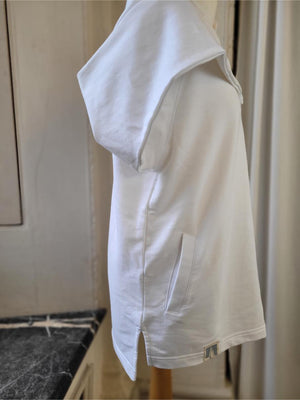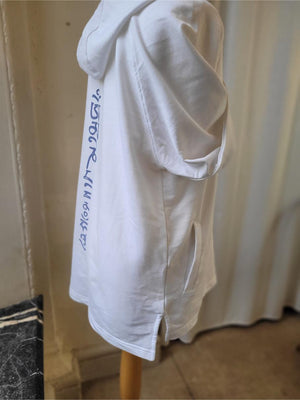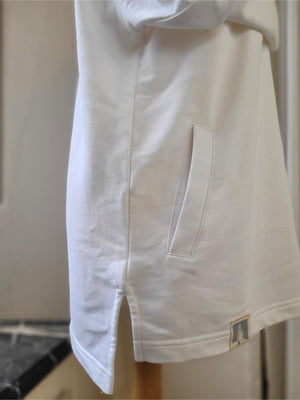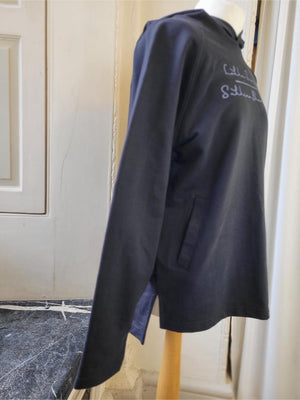 This stylish unisex hoodie is definitely on the sophisticated side, with it's slightly longer drop back tail hem and side vents.  Thick enough to be a sweat but just that little bit on the more sophisticated side. No drawstrings on the neck line but with welted front pockets!  Yes pockets! And hemmed cuffs. 
This sweat is printed with the beautiful and powerful chant of 
Om Mani Padme Hung in Tibetan script - which can be printed vertically along the spine on the reverse of the sweat, horizontally along the bottom back hem, or in smaller print along the back of the left hand sleeve....
You can choose to have 'Inhale Exhale' printed on the front, as seen in the images, or for a more discreet feel you can simply have a 'Namaste Hands Mudra' hem Tag on the front hem - the Padma/Lotus  hands mudra is printed on the back of this hem tag. 
This is a beautiful piece of quality clothing that effortlessly blends casual with a touch of class.
Every Sacred Threads garment is posted out to you with a Bookmark that has the translation of the Om Mani Padme Hung chant printed on it.  
The Translastion is provided by the Amazing & Authentic Yogini - Fran Allan (from https://www.derekthedog.co.uk/)  who received the translation direct from her Teacher in India.
PLEASE BE SURE TO LEAVE A 'NOTE TO SELLER' when you place your order to indicate your preference.
This is a gender neutral sweat shirt that is ethically sourced, responsibly made & sustainably produced. 

Like all Sacred Threads products this sweat will wash and wash and keep it's shape and colour as long as it's washed per instructions.
#buybetterbuyless seriously applies to this sweat. 
Available in Heather Grey, White, Charcoal Grey and Black.
Sizes in: Small, Medium and Large & Xtra Large
For best results wash with like colours on a cool delicate wash
Organic Cotton, 280gsm, French Terry.